Toasted sunflower-basil pesto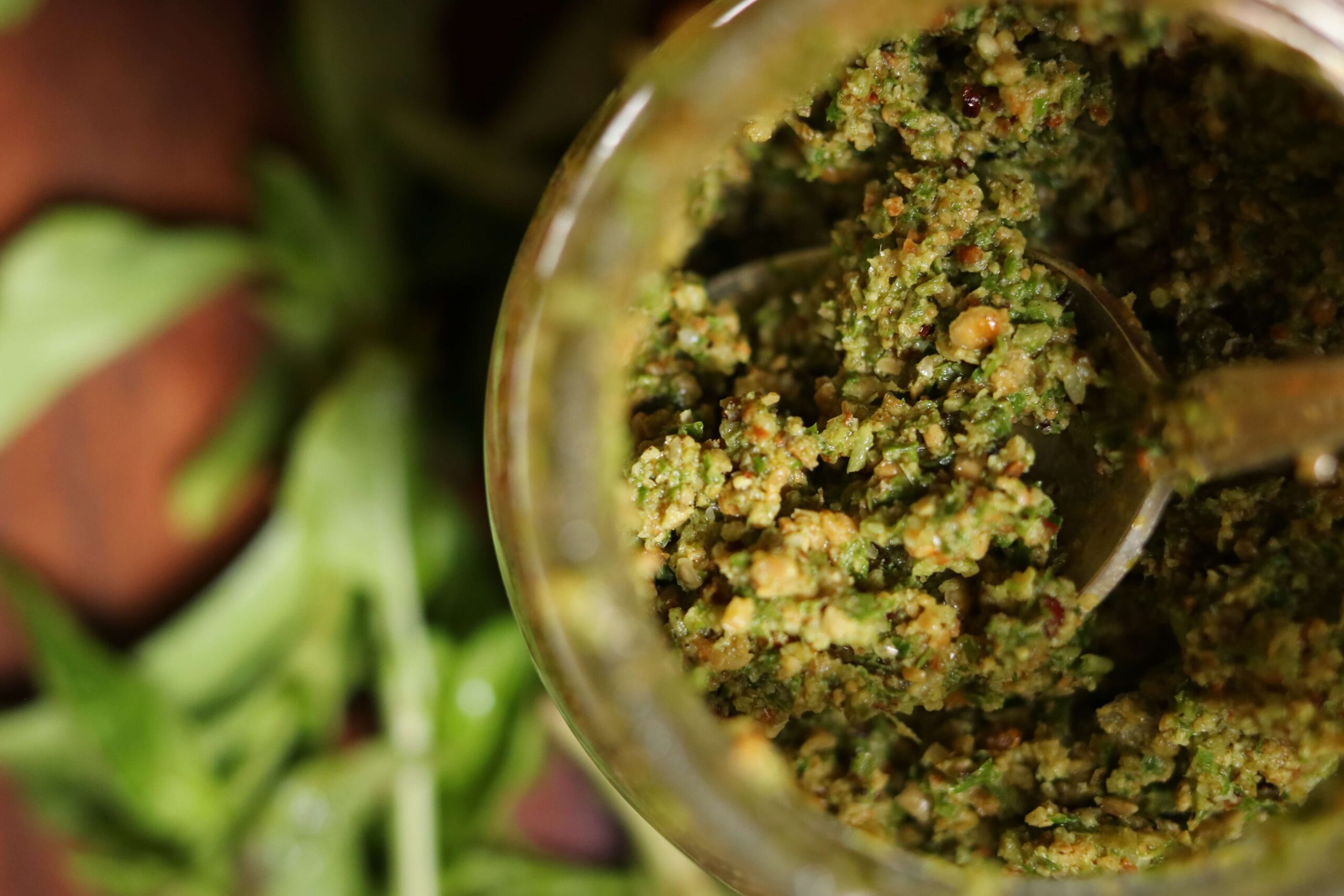 My heart, to yours.
This pesto bloomed to existence from a need to create a more budget friendly version. Here in the U.S., pine nuts (typically used in pesto) can be very expensive. Especially if organic. They are so delicious and when toasted, oof – yum. At my local bulk buy grocery; I have an array of nuts and seeds to choose from. Here; sunflower seeds are on the cheaper end of the price spectrum, even when organic.
This seed releases such a nice oil when lightly toasted, that makes for a perfect swap for pine nuts. I toasted my sunflower seeds for this pesto, but you can totally use raw + soaked seeds. The toasted gives it a richer flavor that I prefer.
Now for the basil. I headed to my local farmers market where I found a huge bundle of basil for $5. To give you a reference; I can get a small handful of basil at my local grocery store for $5. We're talking 4 little stems, vs an entire bouquet. Because of this – I chose basil. You can also swap this for mint, sage, parsley + cilantro or another herb you love. Whatever works for you!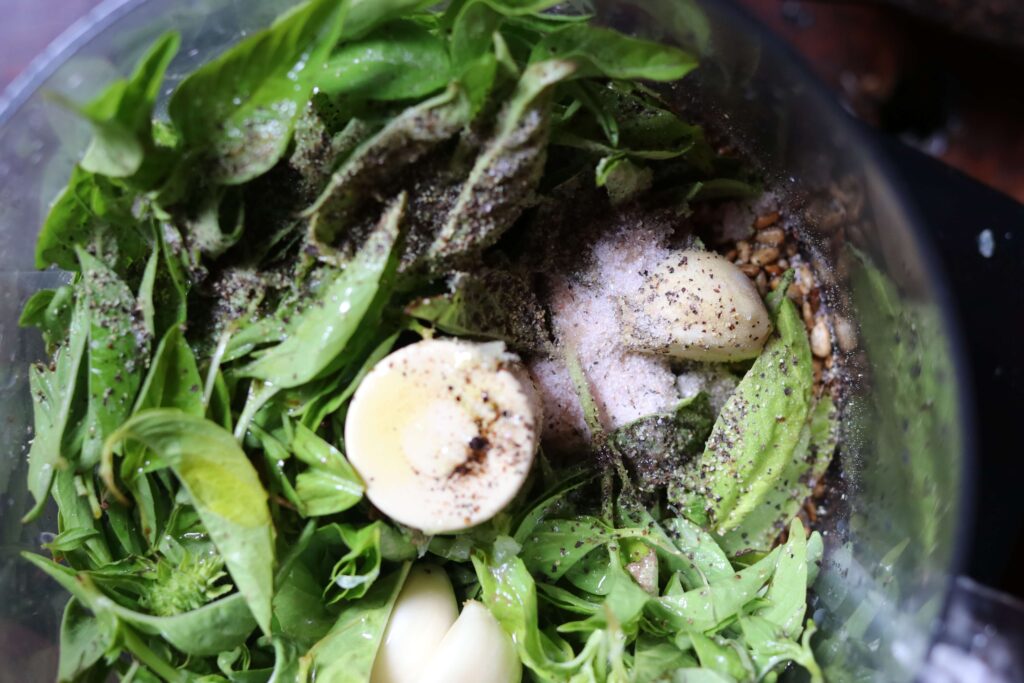 Make you a jar of this delicious pesto and add to pasta, a spread for sandwiches, toast and a bake topping.
I am in love with this one, I hope it's a hit in your kitchen.
Favorite way to use this pesto:
Fold into al dente fettuccine or linguine pasta. Simple and easy!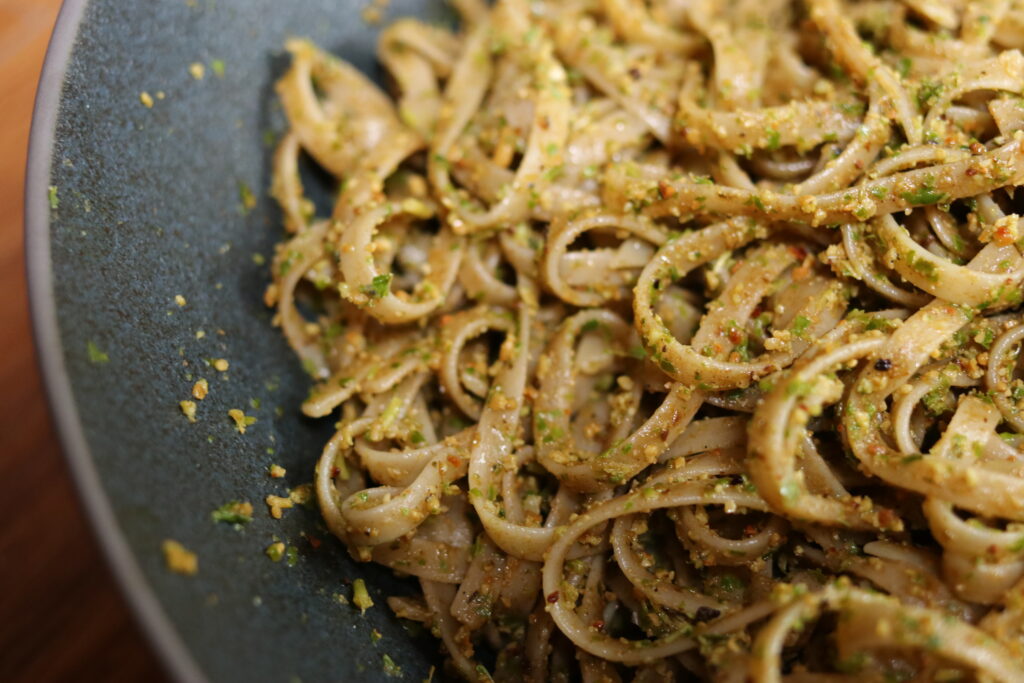 Toasted Sunflower-Basic Pesto
Print Recipe
This pesto bloomed to existence from a need to create a more budget friendly version.
Ingredients
½ cup sunflower seeds, soaked

2 cups basil leaves, packed *

1 tsp salt

1 tsp pepper

½ cup olive oil, plus a few extra tbsp if necessary and desired

1 lime, juiced / or lemon

3 garlic cloves, whole and peeled
Instructions
Place your raw sunflower seeds in a jar and cover them with enough clean water to submerge them

Let them soak for anywhere between 2-8 hours – i like to do mine overnight, just before I go to bed

You can soak them in your fridge or counter top

When done soaking the sunflower seeds, rinse and drain them well – congrats! You just made them more digestible

Pat dry your soaked sunflower seeds between a cotton cloth

Heat a cast iron skillet (or small skillet) on low flame

When the skillet is hot add the dried sunflower seeds

Move them around continuously for a few minutes to give them a slow toast (about 8-12 minutes)

They may at first release water, then become sticky to the pan, then start to release their oils and slide around the pan easily

Keeping a consistent stirring of them allows them to cook evenly and toast beautifully as they pass through these stages

You want them to develop a caramel/golden color, not burn!

When they're beautiful and golden remove from heat to stop cooking

To a food processor – add the toasted sunflower seeds and all remaining ingredients

Pulse on high until combined to your desired consistency

Can be served room temperature or warmed on the stove, yum!
Notes
Save your basil stems to infuse their flavor into water,
or
for a stem pesto for a nice 0 waste recipe
Lemon or lime works great for this recipe – i like lime (:
This recipe makes the perfect amount of pesto for the Creamy Pumpkin Pepper Pasta
Makes the perfect amount for 12 oz of pasta!