Roasted Squash Lentil Curry Soup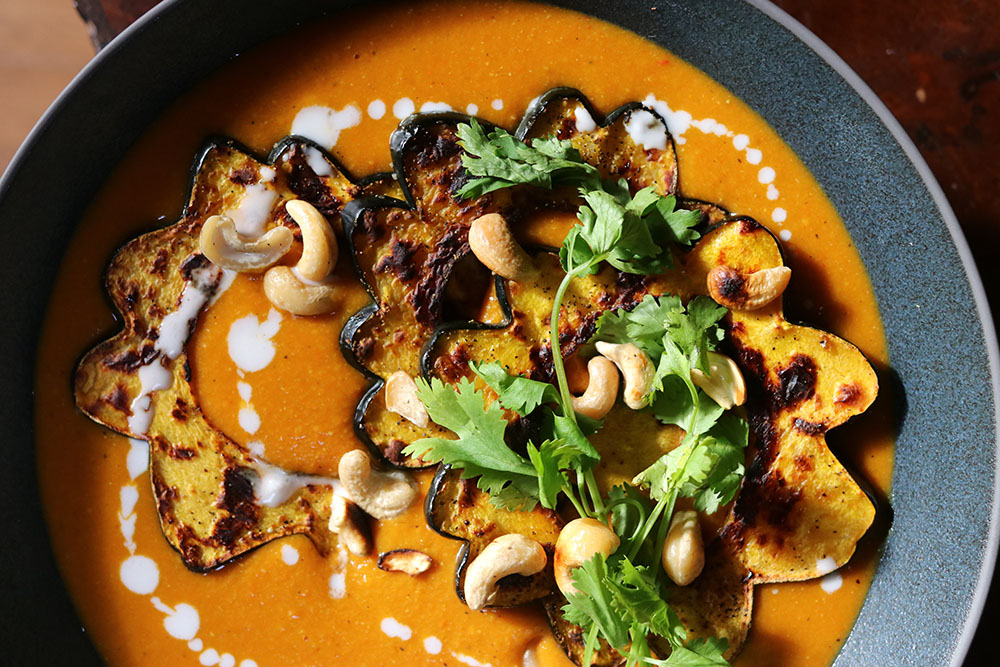 The air is getting cooler here in Texas, making for beautiful morning walks. We're excited to use our wood pile to make cozy fires as the weather turns chilly.
The weather has been a bit unpredictable this year, so we welcome what is to come – when it wants to come. Soup, curries and warming foods are an all year round thing here in the house. They're especially enjoyed when they contrast outside.
This recipe is such a beautiful golden color and mirrors the turning autumn leaves outside our home.
Beautiful roasted squash that tops a gently spiced curry, packed with protein. This bowl is hearty, sweet, savory and comforting. It's a perfect bowl for gatherings, it plates so epic!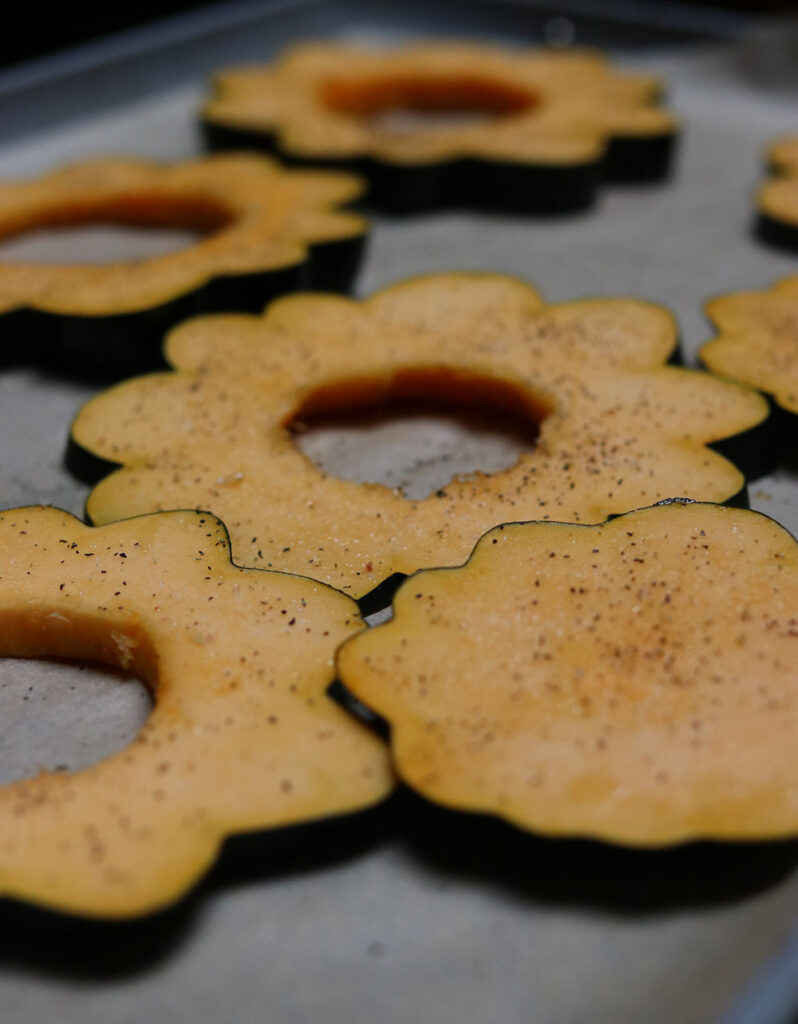 You can customize this recipes heat with your choice of pepper. Choose a red bell pepper for mild, poblano for medium and serrano for spicier.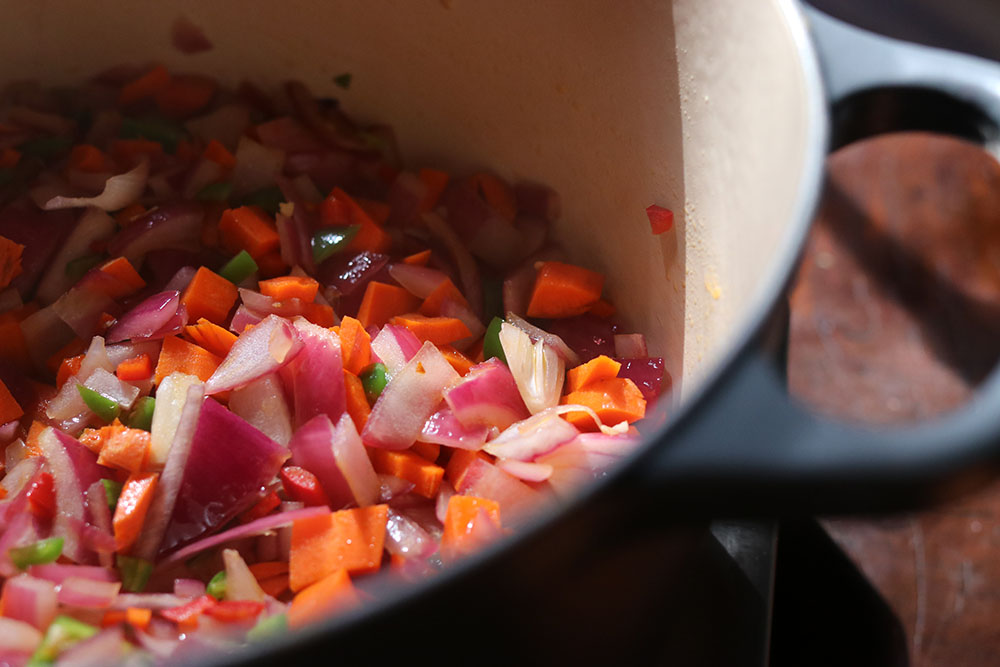 To get the most out of this recipe, make sure you soak your red lentils – as this increases digestibility.
Check notes on how to best soak your lentils to prep for this recipe.
I hope you enjoy this recipe!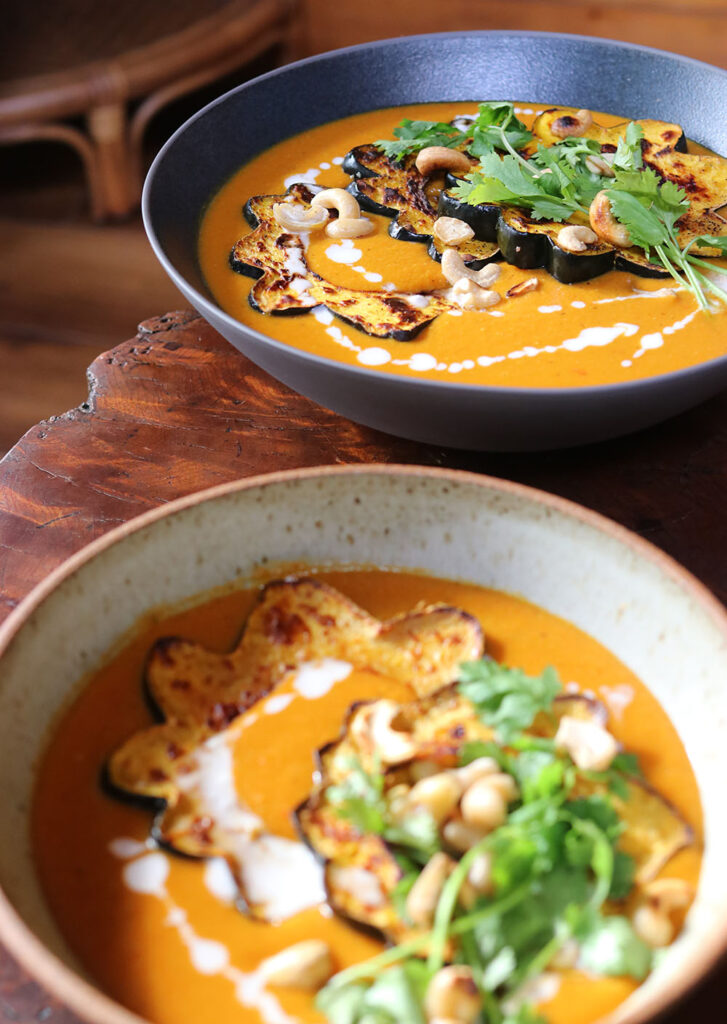 Roasted Squash Lentil Curry
Print Recipe
Beautiful roasted squash that tops a gently spiced curry, packed with protein.
Ingredients
8 cloves garlic

1 Acorn squash, sliced into 1 inch thick flowers (horizontal)

2 cups red lentils

1 finger sized ginger, minced or small chopped

2 carrots, chopped or sliced into long thick pieces

1 purple onion, diced

1-2 peppers of choice, diced – I like a small hot red pepper and poblano pepper (Serrano too!)

2 tbsp olive oil + some for oiling acorn squash

2 tbsp curry powder

1/2-1 tbsp smoked paprika

1/4 tbsp pepper + some for acorn squash

1 1/2 -2 tbsp salt + some for acorn squash

2 lime, juiced

5 sprigs cilantro, chopped

2 tbsp tomato paste

1 tbsp mustard

6 cups water

1 can coconut milk

2 tbsp yogurt

½ cup cashews, soaked, drained and lightly toasted
Instructions
Preheat oven to 400 degrees

Slice acorn squash into 1 inch flowers, by cutting it horizontally

Lightly oil the flesh of the squash with a small amount of olive oil *

Sprinkle the squash flowers with a little salt and pepper

Lay the acorn squash flowers flat on parchment lined baking trays

Bake them in the oven for 40 minutes, flipping them over half way to create an even roast

While the squash is roasting – let's work on the curry

Heat a dutch oven/large deep pot on low flame and add olive oil

Add onions and peppers, sauté for 2 minutes

Add carrots, saute for 1 minute

Add garlic and ginger and saute for 30-45 seconds (careful not to burn)

Then add curry powder, paprika, salt and pepper – saute for 30 seconds

Add tomato paste, mustard & lentils – saute for 30 seconds

Add water, coconut milk and 1 lime, juiced – stir to combine

Increase heat to a simmer, cover with lid, reduce heat and allow to cook until lentils and carrots are soft + cooked

At this point; I like to blend all ingredients with an immersion blender, until it is creamy smooth *

Ladle in the curry to a bowl, top with roasted squash flowers and garnish with drizzle of yoghurt + cilantro + a lime wedge + toasted cashews
Notes
To make acorn squash flowers, simply slice the squash horizontally into about 1 inch thick slices, careful with the knife! Using a rocking motion with your knife may make the slicing easier
To oil the squash flowers, use a brush or your fingers to evenly smooth over oil onto the flesh of the squash
If you do not have an immersion blender, or do not want to blend the base of the soup – it's not necessary to be delicious! Simply skip the blending step and continue with recipe. 
I like to roast the soaked and drained cashews on a cast iron skillet – until lightly golden
I soak my lentils overnight.
My overnight soak method is:
Place the lentils in a large bowl and cover with water by 2 inches. Add a tablespoon of fresh lemon juice to the water and allow to sit on the countertop, overnight. After 8-12 hours; drain and rinse them well before using them in the recipe