Nearly Raw, Berry Lime Tart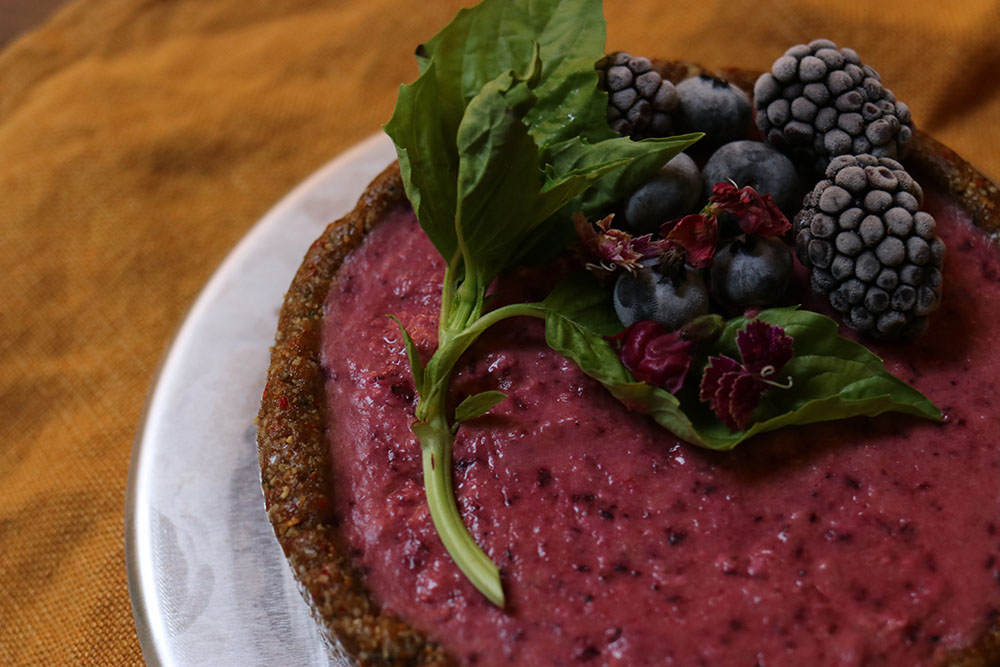 Oh my goodness. I am the not queen of pastries and baked goods. And don't worry – i'm OK with that.
Sweets and me get along just fine, until it comes to making them myself.
I sit on the sidelines and watch my friends tear it up in the pastry world in awe. It's an art! Since beginning to incorporate more raw dishes; I am here to say i have a newfound appreciation and love for the raw side of sweets/pastries.
I made this 'tart' early in the morning September 16th, 2022 – which is now a landmark day for me. I truly have never made a sweet I thoroughly enjoyed and that made me feel good afterwards.
This colorful bounty of a tart will be so special to me, forever. Dates and seeds make for the most incredible base of this tart. I decided to use my hands to manipulate the shape and folds and got lost in the fun of it. So many kitchen tools – and the most stimulating one will forever be thy hands.
I feel connected to this little creation because I got very up close with the ingredients by touch. As a starter; I made the filling with berries, ginger, lime and coconut – always a good combination. I'm so excited to play around with this crust even more. Carrot cake, cheesecake, pumpkin pie – so many ways to incorporate this delicious base.
I hope you enjoy this nearly raw tart – as I venture into more raw creations.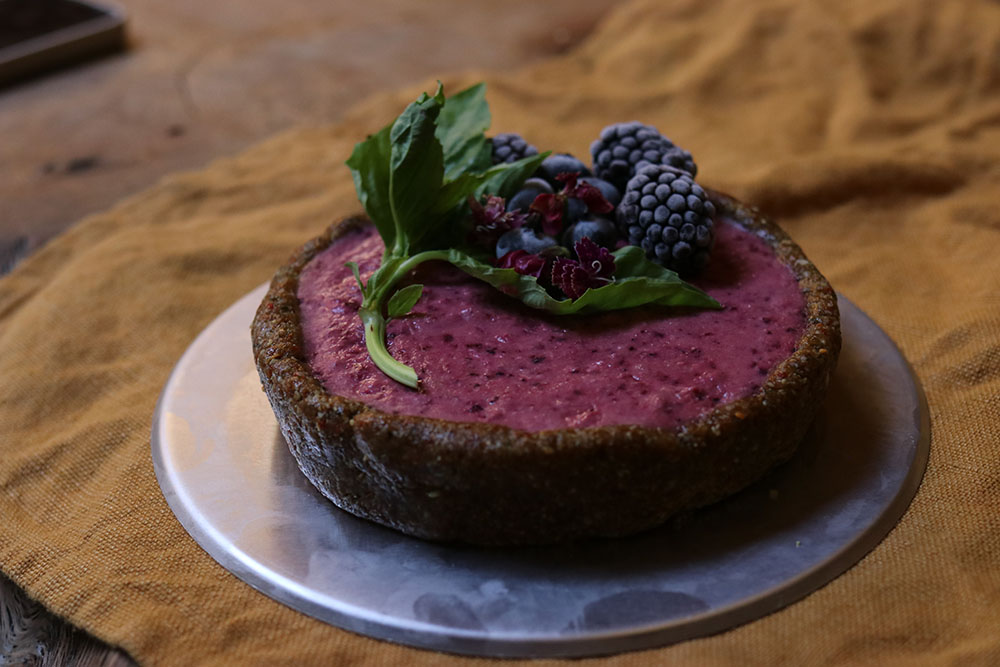 Nearly Raw, Berry Lime Tart
Print Recipe
Ingredients
⅓ cup sunflower seeds, soaked

⅓ cup pepitas (pumpkin seeds), soaked

1 heaping cup of dates, roughly 14 large – pit removed

2 tbsp goji berries (optional)

⅔ cup hemp seeds (optional)

Pinch of salt

⅛ cup coconut flakes
Filling
Zest from 1 lime

1/2 lime, juiced

3 tbsp Coconut oil

2/3 cup Coconut milk

1 tbsp Maple

I/8 cup Coconut flakes (meat preferred)

Pinch Salt

1 1/2 tsp Maca powder

1/3 cup blueberries

1/3 cup blackberries

1/2 thumb ginger
Instructions
Take your soaked pepitas and sunflower seeds – drain them, rinse them, dry them well

In a large skillet on medium flame, dry toast your sunflower seeds and pepitas

You don't need to add oil, simply move them around on the pan until they begin to toast and turn a golden caramel color (about 3-5 minutes), careful not to burn them

Once they are toasted, add them to a food processor and pulse until they become fine – nearly a powder

Then add dates, hemp seeds, goji berries, salt and coconut flakes – pulse consistently until it turns into a crumbly doughy consistency

Take the crumble and shape it into a ball

Flatten the ball evenly on a tray (that can fit into the fridge)

You want the thickness to be about ½ inch – or a tad thicker – feel free to use a rolling pin if that makes it easier for you

I usually do the crust shaping all by hand, have fun!

Begin to lift the edges to form the elevated border/crust – about an inch tall, or in that range

Puree all filling ingredients in a blender/food processor

Pour the mixture to the center of the tart crust and spread evenly

Make sure your borders are reinforced and thick, to hold the inner filling

Set the tart, on a pan, in the fridge anywhere from 8 hours to overnight to harden

Top with frozen berries, edible flowers and fresh basil to serve
Notes
Soaking your seeds overnight is a must!
To do this:
Pour your seeds into separate bowls and pour enough water over them to cover by 1 inch
Let them soak overnight
Then; drain, rinse and pat them dry
They're now ready to be toasted
Make sure you remove the pits from your dates
Goji berries and hemps seeds add extra goodness here, but are not necessary. If i had to pick one; i'd day hemp seeds!
I molded this tart with my hands and love the imperfect look of it. I encourage you too, as well! It's so stimulating
Since dates are sticky; make sure you start molding your tart crust on a small tray or small piece of parchment paper, to keep it from adhering to your counter/cutting board