Gluten Free Focaccia Garden
From the yeast activating, to the bread proofing and the final decoration – this recipe requires attention and care.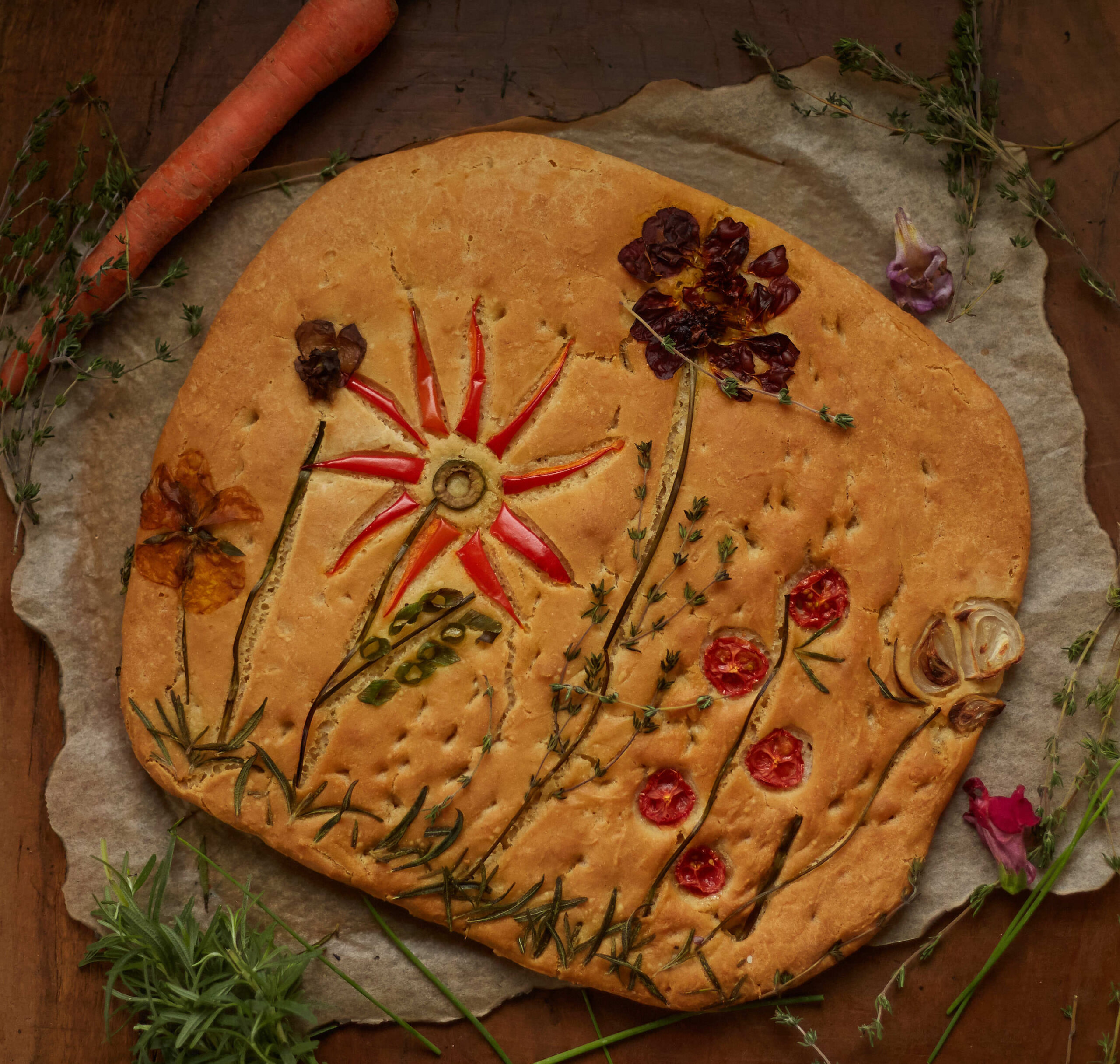 I've recently been diagnosed Celiac and I thought my days of good bread were forever, gone.
Seriously. I kissed the thought of warm, soft, flavorful bread goodbye – in order to heal my body.
Then came this recipe. I have been working with different flours, learning the ins and outs of good bread making and testing..a lot of testing. I am honored to share with you all, gluten-free or not, this majestic focaccia – made with purpose. This bread is soft on the inside and is packed with all of those beautiful air bubbles.
Did I mention how hydrated this bread is? Adios dry gluten-free bread. I am still beaming with happiness at how this turned out! The entire recipe from start to finish is rewarding. From the yeast activating, to the bread proofing and the final decoration – this recipe requires attention and care.
Allow your inner artist to flow and decorate the bread in a way that is yours.
Cheers to gluten-free.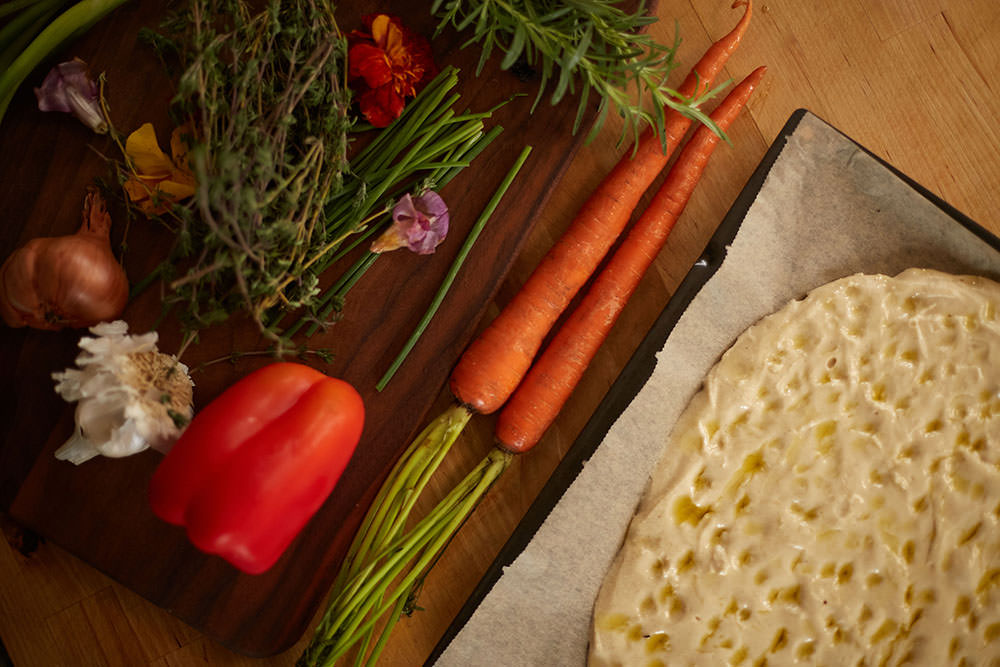 Gluten Free Focaccia Garden
Print Recipe
I am honored to share with you all, gluten-free or not, this majestic focaccia – made with purpose.
Ingredients
2⅔

tbsp

active dry yeast

1¼

tsp

garlic powder

1¾

tsp

onion powder

2

tsp

baking powder

465

ml

lukewarm water

2½

tbsp

olive oil Plus some for later

2

tsp

cane sugar

2

tsp

salt
Instructions
In a small bowl add lightly warmed water, then yeast and sugar

The yeast will start to feed off of the sugar and begin it's rising process

Stir the yeast, water and sugar together to combine and allow to sit for 10 minutes*

You should start to see a foam/bubbles, which will indicate your yeast is active

In a separate large bowl add both flours, salt, garlic powder, onion powder, baking powder and mix to combine

Drizzle 2 2/3 tbsp olive oil into the dry ingredients bowl

When your yeast has risen and foamed after the 10 minutes, pour it into the dry bowl

Mix to combine, then form the mixture at the center and bottom of the bowl

Instead of kneading or manipulating the dough with your hands, create a mound that sits central to the base of the bowl as this will be the proofing location

Cover your large bowl with a cutting board, large plate, or lightly dampened cloth

Allow your dough to rest for 45 minutes, or until it doubles in size

After your dough has doubled in size, pour it onto an oiled parchment lined baking sheet and spread with a spatula to create the shape of your bread – making sure the spread is 1 1/2 – 2 inches thick

Drizzle olive oil over the batter/dough (about 1/4 cup)

Then rub olive oil on your fingertips, to create a barrier to be able to press into the dough (the dough is very sticky and wet, so this is very helpful)

Begin pressing your fingertips into the dough to create small depressions that reach about 1/2 to 3/4 through the dough

Do this from the top to the bottom of your dough

Now for the fun part, decorate your bread with fresh herbs, produce and any additional spices you may want to add

Now that you've decorated your bread, we have to proof the bread one more time

Cover your baking sheet with another baking sheet, leaving it open a jar to allow airflow

Let your bread proof/sit for another 45 minutes to expand in size

This time the bread should expand 1/3 in size

10 minutes before the second proofing is done preheat your oven to 400°

Add your proofed bread into the oven and allow to bake for 25 to 30 minutes.

Serve warm and enjoy fresh
Notes
I chose Bobs Red Mill flours for this recipe, to keep the ingredients accessible and outcome consistent for you guys!
I used
this
brand for my yeast.
Because your dough will be rising significantly during this recipe, use a large bowl for the main dry ingredient bowl.
The term 'proofing' refers to the dough rising in this recipe.
In order to proof successfully, you need to be working in a warm environment to promote dough rising. I like to turn on the heat in the house while i'm making bread. OR keep my proofing dough in the warmest part of my kitchen (which is the cupboard over my preheating oven).
For this recipe, you want to lightly warm your water – but not too hot. Make sure it's lukewarm.
If your yeast doesn't foam or rise after the 10 minutes, start again with new yeast, water and sugar. If this persists – your  yeast may be dead and you may need entirely new yeast.