Chile – Black Bean Enchiladas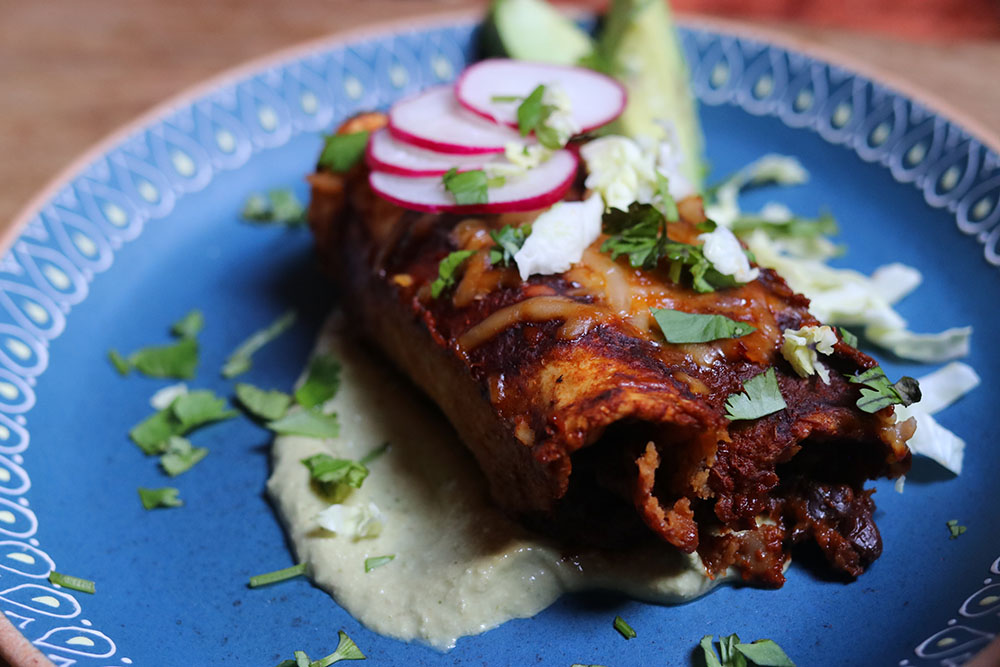 This recipe is amazing for dinner parties!
When hosting; I think of dishes that will keep warm and plate beautifully. The rojo enchilada sauce has a deep flavor, given by the dried chiles. Cooking with dried chiles adds incredible layers to a dish since they house such fruity, earthy and smoky flavors.
The verde cream is made with a base of sunflower seeds, which are on the budget friendly side of seeds. The sauce is light, spicy and tart – with a touch of yogurt. Don't forget the yogurt!
In this recipe, I utilized my homemade corn tortilla recipe. I've updated the recipe to reflect my most current method (i'll be uploading that very soon).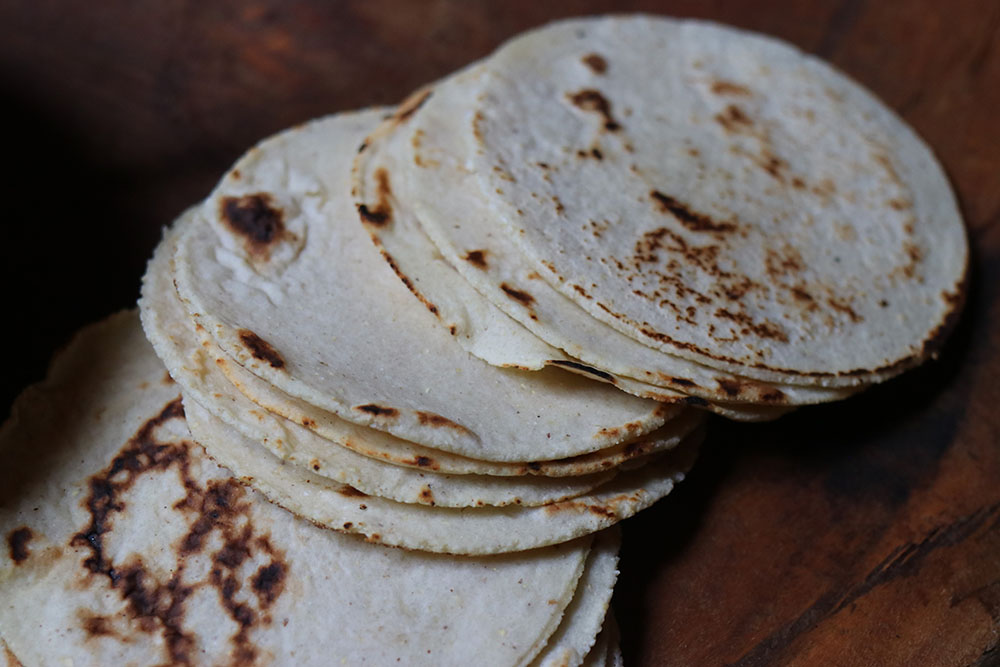 Since this dish is cooked; it's nice to add colorful raw elements to the top – to bring life to the plate.
Feel free to get creative with your toppings – adding fresh jalapeño, shredded purple cabbage, pickled carrots/cauliflower/jalapeño and homemade hot sauce.
I hope you enjoy these delicious enchiladas!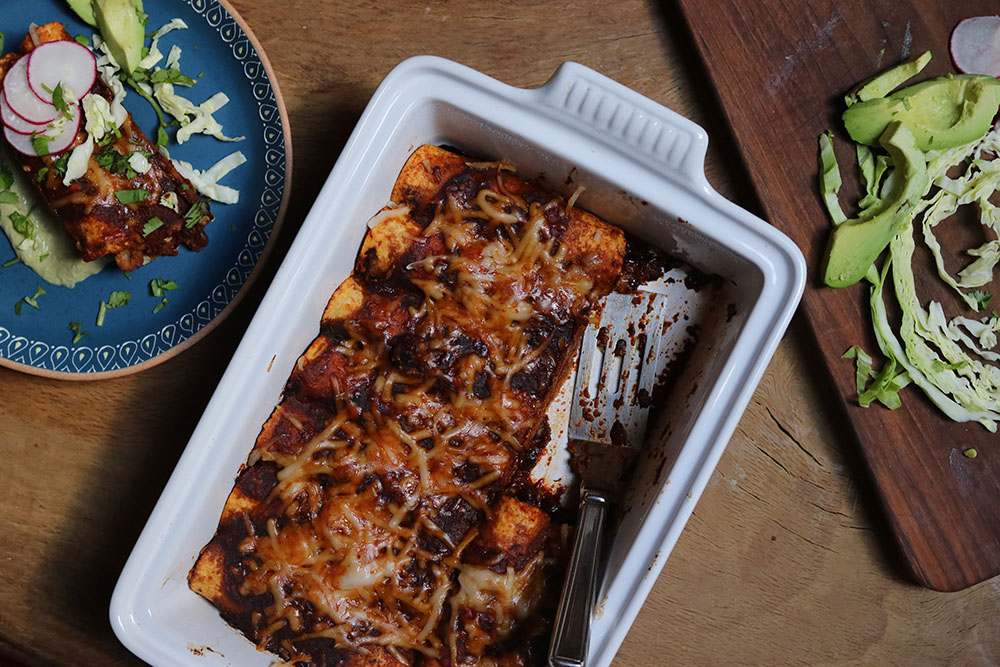 Chili Black Bean Enchiladas
Print Recipe
This recipe is amazing for dinner parties!
Ingredients
Enchilada sauce
2 ancho chile, dried

2 guajillo chiles, dried

1 -2 roma tomatoes

1 tbsp tomato paste

2 garlic cloves

½ onion

1 vegetable bouillon cube, or 1 tbsp vegetable bouillon

1 tsp salt

½ tsp cumin powder

½ tsp cinnamon powder

1 tsp apple cider vinegar

½ lime, juiced

1 tbsp olive oil
Enchilada cream
½ cup sunflower seeds, raw and soaked overnight

½ -¾ cups water (go lighter then add more if you want a thinner sauce, later)

1 tsp salt

½ lime juiced

About 3-4 sprigs of cilantro

½ jalapeno

¼ – ½ avocado

1 heaping tbsp plant yogurt
Enchilada
8-11 corn tortillas

7 oz plant cheese, ideally mozzarella and cashew based

2 cups black beans, cooked

1 poblano pepper, chopped

4 oz mushrooms, chopped

½ tbsp olive oil

Splash of liquid aminos
Garnish
Radish, sliced

Green cabbage, chopped

Cilantro, chopped

Avocado, sliced
Instructions
Enchilada Sauce
Remove the seeds and stems from your dried chiles

On a skillet, dry toast the chiles on low-medium heat

Careful not to burn them – just about 45 seconds on each side

Add about 3 cups of water to a pot and heat to a simmer

When simmering, remove from heat and drop in those chiles

Allow them to sit submerged in water, with a lid on, for about 20 minutes – you're hydrating the chiles and making chile water

Open flame roast roma tomatoes and onion, just a small char *

Into a blender add tomatoes, onion, hydrated chiles, tomato paste, garlic cloves, salt, cumin, cinnamon, apple cider vinegar, lime juice, vegetable bouillon and 2-3 cups of the chile water – depending on how thin you'd like it to be

Blend until creamy smooth

Into a skillet, add olive oil and heat on medium flame

Add enchilada sauce and stir vigorously to cook the sauce – about 2 minutes

Then lower heat to simmer and allow to cook for 10 minutes

Set aside until ready to use
Enchilada cream
Add all ingredients into a food processor and blend until creamy smooth, breaking down the sunflower seeds
Enchilada
Preheat oven to 380 degrees

In a skillet, heat olive oil

Add poblano peppers, mushrooms and liquid aminos – saute for 5-6 minutes, or until tender

Set aside, to fill the enchiladas

I made my corn tortillas from scratch, so they're warm and malleable – if you're using store bought you'll need them to warm up a bit, so they can bend and roll *

Into a large baking dish, pour enough enchilada sauce to cover the bottom of the dish (about ½-¾ cups)

Spoon some enchilada sauce onto a plate and saturate the corn tortillas, one at a time

To one side of the tortilla – spoon in the pepper + mushroom filling and small sprinkle of cheese

Begin to roll the tortilla from one side to the next

Keeping the fold of the tortilla at the bottom, place it gently on top of the enchilada sauce, in the baking dish

Repeat for as many tortillas will fit into the baking dish, layering them side by side

For the last few enchiladas, i layer them in vertical

Cover the rolled enchiladas with remaining enchilada sauce

Sprinkle with remaining cheese

Bake in the oven covered for 20 minutes

Remove cover and bake for an additional 10 minutes, or until golden

Serve with enchilada cream on top or bottom of the plated enchilada

Garnish with radish, cabbage, cilantro and avocado